What is going on?
Art By Chance 2015 Selection
We proudly announce 5th ART BY CHANCE Selection!
(in alphabetical order)
Abigail Prade,
Witness
, Netherlands
Alexii Muftoll,
An Issue
, Israel
Cana Sakaoğlu - Ebru Gümrükçüoğlu - Emre Akyiğit,
Rokkkeet
, Turkey
Chloe Feldman Emison,
Neck
, USA
Clemens Purner,
Bhutan
, Austria
Daniel Farfan Salazar,
Ballad For The Sea
, Peru
David Köhlmeier,
Just A Matter Of Time
, Austria
Deniz Tarsus - Ethem Onur Bilgiç,
Eclipse
, Turkey
Design Foundation Istanbul,
Midyat
, Turkey
Geoff Tompkinson,
Chicago - Toccata & Fugue
, UK
Georgi Krastev,
Rediscover The Summer
, Bulgaria
Giuseppe Lama,
∞ (The Space Between Atoms)
, UK
Hunter Gulan,
Discover Yourself
, USA
Julien Masson,
Shape - Shifter
, UK
Katie Torn,
Breathe Deep
, USA
Mark Bellusci,
Book it!
, USA
Mauricio Thomsen,
The Adventures of Amanda
, Brazil
Narjis Mirza,
Discover Step By Step
, Pakistan
Nicholas Stavros Livanos,
Letters
, USA
Omar Khalifa,
Walkthrough
, Qatar
Orhan Sayın,
The Rock
, Turkey
Paul Druce,
Kathmandu
, Germany
Robert Kaczmark,
Salve Regina
, USA
Stephen Ausherman,
New Species
, USA
Şükrü Özçelik,
Fish
, Turkey
Thank you for being part of this journey!
Thanks loads!
We would like to send many thanks to our amazing participants from 48 countries all over the world: Argentina, Australia, Austria, Azerbaijan, Belgium, Brazil, Bulgaria, Canada, Croatia, Czech Republic, Denmark, France, Germany, Greece, Hong Kong, India, Indonesia, Israel, Iran, Italy, Kuwait, Latvia, Malaysia, Mauritania, Nepal, Nigeria, Pakistan, Panama, Peru, Poland, Portugal, Qatar, Singapore, Slovenia, Somalia, South Korea, Spain, Sweden, Switzerland, Tanzania, Thailand, Turkey, Uganda, UK, USA, Uzbekistan, Zambia, Zimbabwe! :)
Extended Deadline!
Dear folks!
The deadline is now extended to 2 December, 11 PM (GMT) due to heavy traffic on our participation page! Wow!
Send Your 30 Second Short Film!
Art By Chance 5th edition's theme is DISCOVER. We're waiting for your 30 second gems.

Your video might give you the opportunity of a round trip flight ticket to anywhere all over the world by courtesy of our global sponsor Turkish Airlines.
Be a part of the largest public art event! The festival takes place simultaneously in more than 20 + countries, 200+ cities worldwide.
Music credit: POST Band

We love our participants - Tubomi
Tubomi Kouko Testimonial for ART BY CHANCE

Our beloved 1st edition (2009) participant from Japan tells his future plans for Art By Chance BUT IN JAPANESE.
Lomography Makes You Happy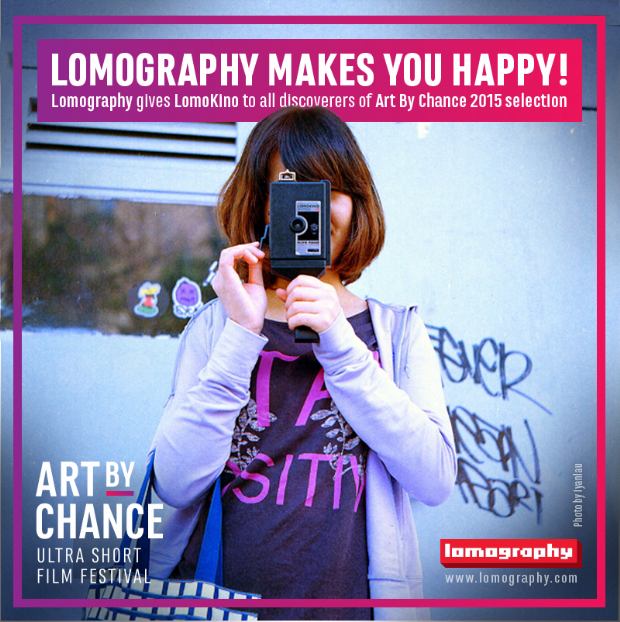 Lomography gives LomoKino to all discoverers of Art By Chance 2015 selection.
Gökhan
Gökhan Okur Testimonial for ART BY CHANCE
Our beloved 1st edition (2009) participant from Turkey tells his memories of Art By Chance.
LOAD MORE NEWS